Cyber & Information Technologies
FBC's Cyber & Information Technologies practice provides legal counsel on a wide array of cutting-edge technology oriented legal matters including privacy, data protection, information security and commercial activities in the cyberspace.

The practice offers clients legal advice, legal opinions, risk analysis, compliance assistance and transaction representation (development, sale, licensing and settlements) with respect to privacy, data protection and database registration, information oriented transactions and data transfers, protection of intangible assets, information security and cyber regulations, cyber incident response and dual-use technology export, provided by tech-savvy lawyers including a Certified Information Systems Security Professional (CISSP).

FBC's experienced Cyber & Information Technologies team supports the entire spectrum of stakeholders including boards of directors, database owners, service providers and information oriented businesses, including companies focusing on the development of information security technologies, big data, web intelligence (webint) and data mining. The team also supports multi-national organizations operating or collecting data in Israel with respect to local regulatory compliance.
Dowload as PDF
Hebrew
中文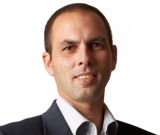 View Full Team >>