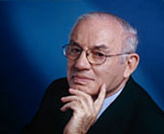 Born in the former Yugoslavia, Isachar Fischer arrived in Israel (then Palestine) as a refugee in 1946. In 1948 he joined the Israel Defense Forces, where he held a variety of positions and attained the rank of Lt. Colonel (Res.). Mr. Fischer founded I. Fischer & Co. (later to become Fischer Behar Chen Well Orion & Co.) in 1958, and for over 50 years focused his practice on representing foreign investors in business and commercial matters in Israel, as well as on probate, trusts and estate law. He also served for many years as the Chief Judge of a Military Tribunal of the Israel Defense Forces, and as President of a Military District Court (1968-1982). His unstinting integrity and passion for the law were the pillars of his sterling professional reputation.
Mr. Fischer was designated by the Israel Bar Association as its representative with respect to its relationship with the German Federal Bar and with the German Bar Association. Mr. Fischer also served as a representative of the Israel Bar Association on a committee of the Israeli Parliament regarding judicial procedure in Israel.
Mr. Fischer served as a member of the Sub-Committee for the European Economic Community and the Sub-Committee of English-Speaking Countries of the Central Committee of the Israel Bar Association.
Mr. Fischer had a remarkable ability to connect with persons of all walks of life, and his compassion for his fellow human beings resulted in his many pro-bono activities. His vision and values form the basis of the firm as it is today.
Mr. Fischer was a true Zionist, a philanthropist of note and an inspiration to all who knew him, and he is sorely missed by his family, friends, clients and colleagues.